extends your EnOcean by a new dimension
myHomeControl® is a home automation system with build in visualisation and control capabilities designed for the use of EnOcean based devices.
myHomeControl® integrates building automation visualisation and control tasks into one system.
User operation, indication, visualisation and system functions are integrated. The application my be free defined and is not restricted. No programming skills are needed, the application is defined with graphical symbols. The integrated help system and the simulation mode support "learning by doing". Modifications may be done by the "local – electrician".
Direct link to the myHomeControl® WEB page: www.myHomeControl.ch >
Principle of operation
myHomeControl® communicates with the EnOcean devices using an radio transmitter and receiver connected to the PC.
myHomeControl® software runs on a Windows PC..


Control and Visualisation
myHomeControl® shows the actual states in clear pictures and offers a simple touch screen operation. Each floor is shown in the floor plan view with live status indication and the allocated operation elements. The input and output functions are presented with ready-made visualisation objects.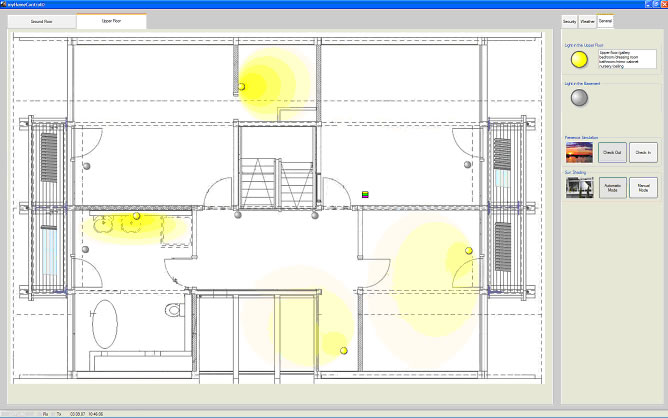 A fingertip switches between the floor plan tab-folders. The overriding operation panel is located in tab-folders on the outer right screen side. A fingertip on the object in question opens up the user dialog.

The lamps and rolling shutters / sun blinds are operated automatically or by a fingertip.
Network Editor
myHomeControl®

user applications are formed with the help of networks. Networks are organised in floor levels and rooms. Building the network is done in steps. The sensors, functions and actuators are inserted and linked to the floor / room. The connections between sensors, functions and actuators are defined. Finally have the functions to be configured.

The functions are ready-made by means there is no need of programming. The network view is used for testing and simulation of the application. The teaching-in of EnOcean sensors and actuators is also done in the network view.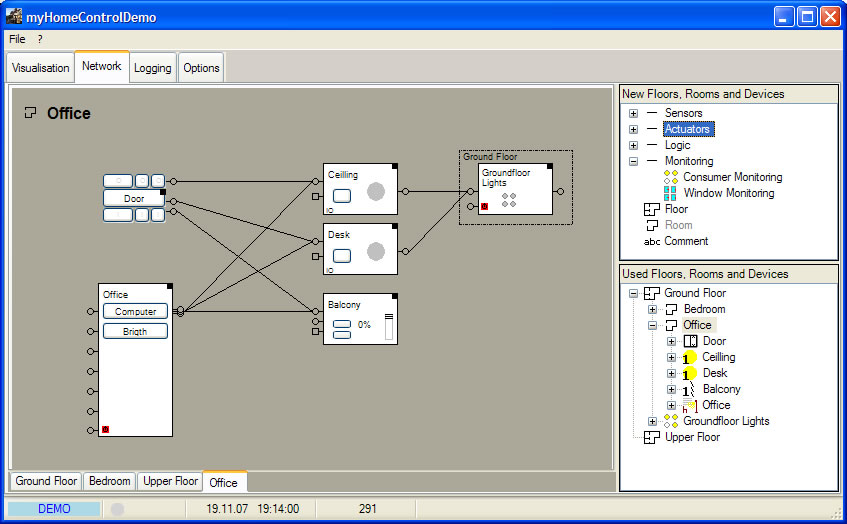 myHomeControl® smart links are connecting sensors, actuators and functions as desired. Connections may be changed with mouse clicks, the actuator has not to be touched or dismounted.

myHomeControl® Logic functions: Presence simulation, sun shading, monitoring and supervision, scenes, timer clock, daylight, watering, smart functions, step-on step-off switch relay, SMS, eMail, .. .
Supported devices
Sensors: PTM switch, window catch, door handle, weather station, STM100 based sensors for wind, illumination, temperature, humidity and more.
Actuators: Switch, dimmer, sun blend and more.
Additional information and a demo version to be downloaded is available under: